Meet The Coach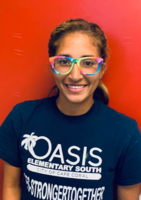 Born in Cartagena, Colombia raised in Naples, Florida. Graduated from Palmetto Ridge High School, I was involved in multiple sports and activities including being on the dance team. I served in the United States Marine Corps and graduated Cum Laude from Monroe College in NY. This year is my first-year teaching 4th grade at Oasis Elementary School. I live by the motto "Honor, Courage and Commitment" have honor (pride) in what you do, have the courage to do what is right and commit 100% to yourself and your goals. I am a believer of "teamwork makes the dream work" we achieve greatness by taking care of one another and uplifting those around us.
Cheerleading Information
Thank you to everyone who tried out! We had a great group!
Based on a few frequent questions, I wanted to provide some clarification on tryouts and upcoming plans. Most of this will be covered at the parent meeting.
1) Tumbling was not a part of tryouts because many of those trying out have not participated in annual UCA certification. Tryouts included jumps, motion technique, controlled movements, sharp claps, knowledge of dance, and of course spirit presence.
2) OHS is planning on plenty of opportunities to cheer in the coming year. We will offer sideline cheer for football and other fall sports, and basketball. OHS will be registering for competitive cheer with the FHSAA. This season does not begin until October, these are dates dictated by the FHSAA. At that time, those that are interested in competitive cheer will have the option of doing more stunts, tumbling, and competitive cheer requirements. Students that play other OHS sports will be handled on an individual basis.
3) The dates for the UCA home camp and conditioning schedule will be provided at the player parent meeting. In addition to that we will provide pricing and camp gear as well.